Hot wallet vs Cold wallet: How should you store crypto?
There are a number of hurdles to jump on the path to becoming a hodler. Perhaps one of the most daunting comes towards the end of the journey: where do you store your newly bought cryptocurrency and what's the difference between a hot wallet and a cold wallet?
A cryptocurrency wallet is called a "wallet" because it gives an owner access to Bitcoin and other digital currencies that they own. But don't let the term mislead you — a crypto wallet is more similar to an online banking website than a physical wallet. It allows an owner to review, buy, or sell their assets, but their wealth is not physically stored there.
What a crypto wallet actually stores is an owner's cryptocurrency keys: a private one and a public one, both digital. The private key is a set of letters and numbers unique to an owner's cryptocurrency wallet that allows them to send digital currency from that wallet. The public key (a.k.a. public address) is an alphanumeric string of characters that can be used to receive cryptocurrency from others.
While the public key is 100% open to the public, the private key must absolutely be kept secret at all costs because of the latter grants full access to one's crypto assets. In this effort to keep the private key secure, two types of cryptocurrency wallets have developed. A hot wallet is connected to the internet, while a cold wallet is offline. This one distinction has significant implications for the security (and convenience) of an investor's digital assets. Knowledge of security best practices will help you choose the best cryptocurrency wallet.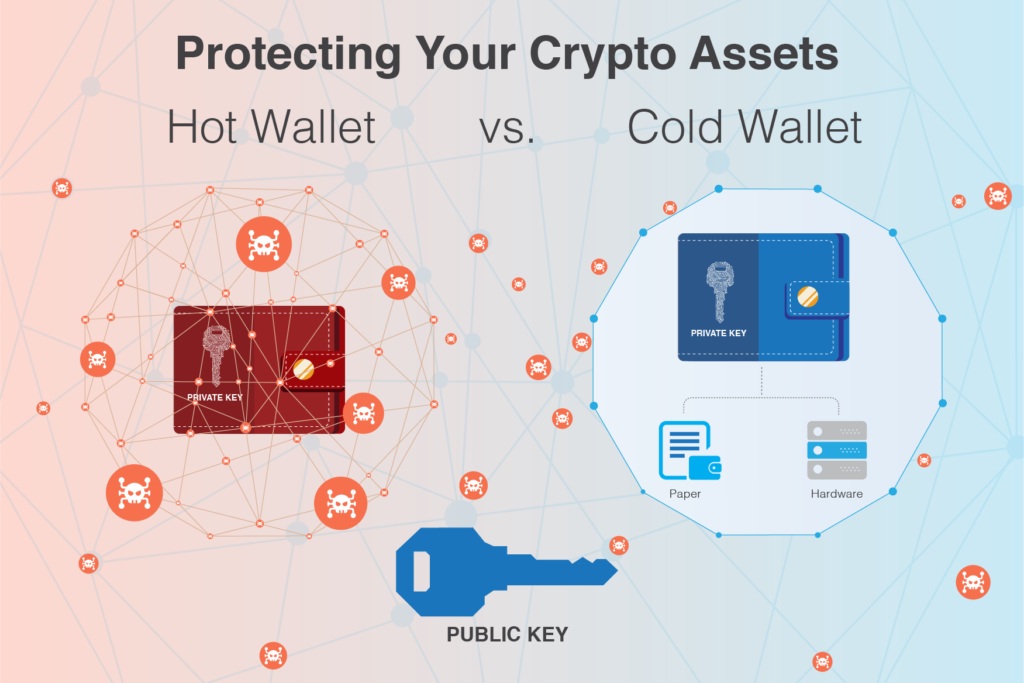 Cold wallets
For any cryptocurrency assets that you don't need instant access to, it's best to store them offline in a cold wallet. Maintaining high levels of security is key in crypto.
There are different choices of a cold wallet, such as a hardware wallet or a paper wallet. A hardware wallet is an external device like a Ledger Nano S or Trezor that stores your private keys. You must push a button to complete a transaction, so hackers cannot take control. Hardware wallet access is locked behind a password or pin. In general, the funds stored on a hardware wallet are fairly accessible, as long as you have access to the wallet.
A paper wallet is a print out of the private key and public address on a sheet of paper or another material. This is generally regarded as a risky form of cold storage because you can lose the paper or someone could easily find it and access your funds.
Another cold storage option is to utilize a secure crypto exchange like Binance, where all customer funds are stored in cold storage, so if you don't want to manage the cold storage process for your funds, you can look to Binance or any other cryptocurrency exchange to ensure your funds are completely safe, kind of like a custody solution.
Hot wallets
Hot wallets are more common, but they are higher risk. There are a number of popular hot wallets for the Ethereum network which work on your web browser, such as MyEtherWallet. If you download a wallet to your desktop or your phone, that is also a hot wallet because it is connected to the internet.
Most exchanges utilize hot wallets at least to some degree. This allows for fast access to user funds. However, it also means if you are storing your funds on an exchange with these practices, those funds could be at risk. The wallets are connected to the Internet, so they are always being targeted by malicious individuals and hackers.
Hot wallet or cold wallet?
We've covered the debate of "hot wallets vs cold wallets" by giving different points of view and talking about the pros and cons of both sides, talked about the best cold storage wallets and went over the main features to look at while searching for an appropriate cryptocurrency wallet. Be sure to put the information that you acquired here to good use – pick a wallet that will serve you for many years to come!
If you do decide on purchasing a cold wallet, don't hesitate to do some more research on the internet beforehand – we only went over four of the main hardware crypto storing devices in this guide, but there are many more in the market! Perhaps you'll come across one that will suit your needs perfectly.